Biographie about Kate Moss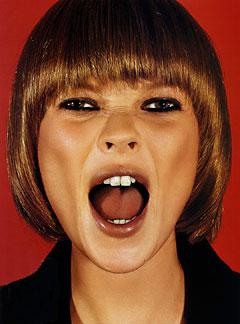 Once upon a time there was a place called Croydon in England (it's still there but it's not the point). One day in the mid-seventies a little girl was born, her name was about to be Kate. The day when little Kate was born is January 16, 1974.This little girl had beautiful hazel-coloured eyes and brown hair, She never knew that she one day would become one of the world's most well-paid fashion models.But one day in 1988 when she and her parents arrived from a holiday trip (Kate was 14) to the JFK airport, a guy stepped up to her and said that her sister was running a model agency. The sister was Sarah Doukas of Storm Agency. And suddenly, a star was born.
Kate has been accused for not living healthy and making other girls who look up to her do the same. Kate is thin, I admit, and she smokes and drinks a lot (used to). She put herself into the Priory clinic in London early last year (1999) to get rid of all that stuff. I really do hope that she sticks to the more healthy life that we all want her to live.
She is one of the most admired and photographed models in the world, she has appeared on lots of covers, in a huge bunch of editorials, a vast spread of advertisements (mostly Calvin Klein until recently). Kate has even made a book with pictures from her career (Kate: The Kate Moss story).
She has appeared – not surprisingly – in a few movies, not 2 hour cinema movies, but Ellen von Unwerth's Inferno, Elton John's Something about the way you look tonight and Primal Scream's Kowalski. Peter Lindbergh wanted her in his book 10 Women and Pirelli in their 1994 calendar.
Kate set the standard for the "waif" models when she started modeling, but nowadays there are lots of fashion models more thin than her. She measures 84 – 58 – 89 (cm) and 169 cm in lenght. She claims she never weighs herself, but I have seen somewhere that she weighs about 53 kg.
Story © Andy Rehnstromer, most facts from Fashion Model Index.