…ing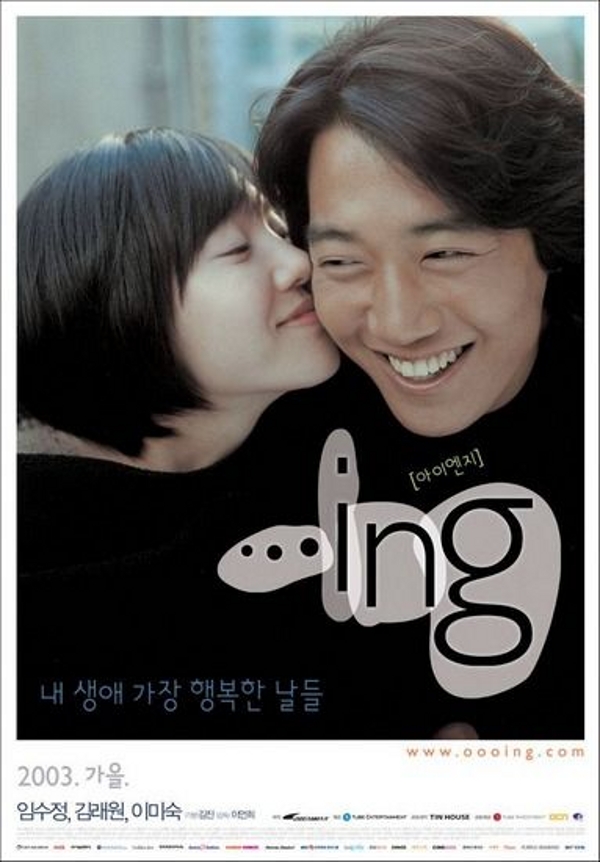 Running Time : 110 min
Opening date in Korea: 28 Nov 2003
Director : LEE Eon-hee

Cast:
IM Soo-jung as Min-ah
KIM Rae-won as Young-jae
LEE Mi-sook as Mi-sook
Synopsis
Min-ah is a high school student who has just been transferred from another school. She is quiet and keeps to herself as she has a deformed hand and has spent most of her life in the hospital battling a life-threatening disease. She lives with her mother Mi-sook, who is widowed. Mother and daughter share a close and intimate relationship, and Mi-sook wishes for Min-ah to experience all aspects of life, including first love.
Min-ah befriends Young-jae, the new neighbour downstairs, and starts to experience her first love. However, everything is short-lived as Min-ah finds out that she is dying…
Review:
I saw this movie on the plane and I think ISJ looked so cool with her headphones and smoking at her window.
All the advertisements of this movie featured KRW with ISJ, but I felt that the story is really about the mother-daughter relationship and how the mother tries to let her daughter enjoy all aspects of life before her expected premature end (maybe the producers were trying to ride on KRW's popularity to sell this movie). KRW was charming (again) as the neighbour, but played a complementary role to the mother-daughter movie (and I love his pick-up lines! – holding a tortise as a hostage, ha ha ha….).
It was heartwarming to watch all the mother-daughter scenes. As the quiet and pensive Min-ah, ISJ crafted a role much more sensitive and mature for her age. As the mother, LMS gave that balance in her frivilous approach to her daughter's dead serious questions. My favourite was the part when she told Min-ah that Min-ah's real birth father is actually an alien and that explains her deformed hands. I mean what kind of a mother talks like that with her daughter? Yet at the same time, it was painful to see the mother trying to continue with her daily life while faced with the sad realities of Min-ah´s health condition. But life goes on, and the world does not stop and you don´t stop feeling hungry because your daughter is dying (sniff).
"…ing" is really a bitter-sweet teenage movie, without the anger of growing up, but just cherishing life to the fullest. A snapshot of the last days of a typical teenager's experiences, as she sees life and love through her eyes.
The sadness in the movie was not amplified by bawling or emotional outbursts, but subtle, painful and mundane with the unavoidable eventualities presented. The director did not try to "perfect" or beautify the sad situation, unlike most Korean material. There will always be regret in life, and with Min-ah's passing before her first ever holiday to Hawaii, and Young-jae dreaming of his first kiss with Min-ah, the audience is left to chew on and decide for themselves how they wish to feel about the story.
The only scene that I felt that my eyes were welling up was the last part when the LMS saw what Min-ah wrote in her dairy, and when Young-jae saw Min-ah's sketchbook. It's the things which are left behind that leave the most painful memories, not really the physical loss of the person; and the pain continues with the ones who get left behind and not the one who has died.
I was impressed with ISJ's performance as the eccentric girl mature beyond her age. The role of LMS, as the fun mother who is trying to add fluff to Min-ah's life, was executed with ease by this veteran actress. KRM reprised his role as the sunshine-boy in this movie with his warm smiles, and fumbling tactics.
The OST sounds great too, it has this airy carefree-sounding music that adds a whimsical feel to a simple story set against a very sad theme. A well-balanced tragedy that does not feel too much like a tragedy.
Lovely movie.
My favourite scenes
Min-ah smoking at her window with her handphones on
The tortoise kidnap
The traffic controller crying in the rain
Min-ah sobbing for the traffic controller
Waking up early to take a photo
The photo exhibition
Min-ah's mother crying after she read what Min-ah wrote in the diary
Young-jae crying as he flips through Min-ah's sketchbook
Author: il_mare spcnet.tv