New Flock Version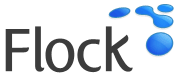 If you're using Flock already, you should have received the request to update to Flock 0.7.1 by now. The release is an incremental update that tightens up some inconsistencies that were causing issues in the photobar. If you've been having weird problems with using photos and logging into services, hopefully this should clear it up.
From the release notes:
Logging in to Flickr now works on Windows with avast! anti-virus software installed, and Flock should no longer be able to have duplicate photo favorites in the photobar.
Experimental ability to use FireFox extensions that have not yet been made Flock compatible has been added. There is now a warning that must be responded to before the extension install proceeds.
Blogged with Flock